We are into our final half term of the academic year. It has been a wonderful year for PE and sports, with many schools throughout the country increasing their physical education and extra curricular clubs for their pupils.
What better way to end the year with the upcoming national sport week, Monday 25th June – Friday 29th June 2018.
National Sports Week- This year the focus will be 'celebrating the role of play and sport in education'.
What we have on offer- A variety of of sports, that you may not have had the opportunity to offer such as, Fencing, Soft Archery, Ballet, Volleyball, Goal Ball and others. With discount of up to 50% yes that's right! (Get in touch for a full sports list).
Book us in- We are taking bookings for morning lesson, afternoon lessons and all day/all week. This fantastic opportunity is limited, and we strive on delivering unique sports with qualified, experienced staff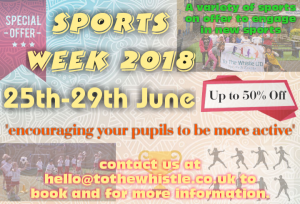 .